Essentially, 3D printing is a manufacturing technique in which material is placed down in layers to build a three-dimensional object. While 3D printing has been around since the 1980s, its use and popularity have grown in recent years.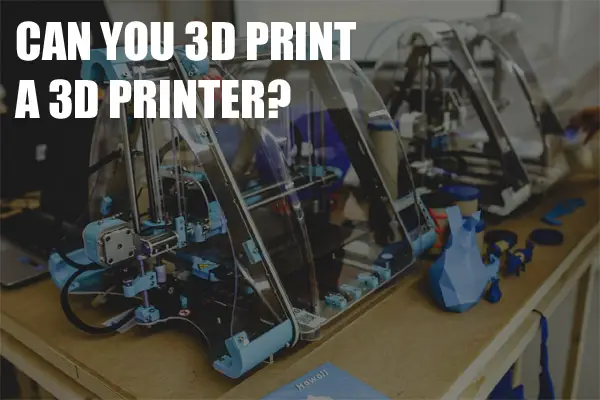 A significant reason for the recent rise in the use of this technology is that it is a simple technology that can be employed in a wide range of areas. In the past, 3D printer materials were very costly. However, costs have been decreasing in recent years due to advancements in 3D printing technology and materials. 
Taking this into consideration, many people ask,  can you 3D print a 3D printer?
You can 3D print a 3D printer, but not completely at this time. While you can 3D print the plastic components of another 3D printer, you cannot 3D print all of its electronics. 3D printers that use thermoplastics like polycarbonate and ABS (Acrylonitrile Butadiene Styrene) cannot print metal. Additionally, you have to print the parts individually and assemble them. 
Why? Because consumer-level 3D printers lack the space to create huge models.
In this article, we will discuss 3D printers in detail, things that you can and cannot 3D print, and more.
Why 3d print a 3d printer?                 
Building your own 3D printer might actually offer tremendous learning opportunities.
It enables you to thoroughly understand the project and inner functions of the 3D printer. 
Not only will you learn a lot, but you'll also become an expert in repairs. In fact, 3D printers are enabling ordinary people like you and me to produce complex products in ways that conventional production methods could not.
You can use 3D printers to create any type of object. Your design options are expanded with 3D printing. As a result, you can alter and modify your own 3D printer to suit your requirements. 
What can you not 3d print?
Many components of 3D printers are 3D printable, including bearing blocks, driving mechanisms, and the frame. You must tailor all the designs to suit your material type.
While most components may be printed using PLA, the belt drive requires TPU (Thermoplastic Polyurethane).
There are many screws, bolts, nuts, brackets, and gears on a 3D printer. Only some of these nuts, brackets, and gears can be 3D printed using thermoplastics like PLA (Polylactic Acid). Also called fused deposition modeling, Fused filament fabrication (FFF) is a 3D printing process that uses thermoplastics. The other parts that are of alloy or metal are beyond FDM 3D printing.   
You can make things out of TPU, ABS, and PLA. However, you cannot make anything out of metal, alloy, or glass. For consumers and makers, the most popular 3D printing process is fused deposition modeling (FDM). This technology has existed since the inception of the history of 3D printing. S. Scott Crump invented fused deposition modeling in the late 1980s.
RepRap 3D Printer
RepRap (replicating rapid prototyper) is a self-replicating 3D printer that was developed by an English mathematician and engineer, Dr. Adrian Bowyer, in 2004. Back in 2019, Queen Elizabeth II honored him with an MBE (Member of the Order of the British Empire) for his contributions to 3D printing.
Dr. Bowyer created the RepRap Darwin, the first RepRap 3D printer. This self-replicating printer was named after the scientist Charles Darwin, who proposed the theory of evolution in the 19th century.
Best Self-Replicating 3D Printers
Here are some of the best self-replicating printers. 
1. Prusa i3 MK3S
The Prusa i3 is perfect if you want top-notch quality and reliable RepRap 3D printer. It is a dependable and precise 3D printer with a layer resolution of up to 50 microns and a print volume of 250 x 210 x 200 mm. The best thing about this 3D printer is that it can print all of its plastic parts and is intuitive to use.
You can either buy a kit or a pre-built version of this self-replicating printer. The key difference between the kit and the pre-built version is that the former comes in several parts that you have to assemble before you can begin printing, and the latter comes completely built and prepared to print.
This 3D printer can move at over 200mm/s and prints with layers as thin as 0.05mm for excellent precision. Plus, it has a spring metal build plate for interchangeable PEI (Polyether imide) sheets. What's more, this self-replicating printer can also print tougher materials like nylon or polycarbonate for businesses. The E3D V6 nozzle on the extruder manages abrasive filaments. It reaches temperatures of 300 °C. 
2. Anet A8
The Anet A8 self-replicating 3D printer is versatile in that it can print a wide variety of 3D printer filaments, such as wood, nylon, PVA (PolyVinyl Alcohol), ABS, and PLA. This 3D printer is relatively accurate despite not having a dual extruder or heavy aluminum chassis.
The bearings, gears, and stainless steel rail rods stabilize the process of printing. The most important thing to note is that the printer does not arrive assembled, so you'll have to construct it yourself using Anet's step-by-step instructions.
Are you looking for a self-replicating 3D printer that is affordable? This self-replicating 3D printer has a few useful features irrespective of its low cost. It has a heated bed and can print PLA, PETG (Polyethylene terephthalate glycol), and ABS. Additionally, it has a huge printing volume, measuring 220 x 220 x 240 mm.
3. Creality Ender 3 Pro
The Ender 3 Pro is a self-replicating printer that is easy to assemble. According to the manufacturer, you can build it together entirely from the package to print-ready in 10 minutes with just 20 screws.
This self-replicating 3D printer is less likely to jam when printing, thanks to the high-quality extruder. It has a number of upgraded features, such as upgrades to print bed leveling, an improved power supply, and an updated print bed system to decrease warping.
4. Anycubic i3 Mega S        
If you want to print in bulk, the Anycubic i3 Mega S is perfect as it prints fast. What's more, you can assemble this open-frame 3D printer in just 20 minutes. It has a strong metal chassis and a sufficient build area. This RepRap 3D printer uses fused filament fabrication technology and supports many filament types. It has a large build volume of 8.1 by 8.3 by 8.3 inches (HWD).
Its unique bed, known as the Ultrabase, heats up quickly. Parts adhere to the bed surface readily and are easily removed as the 3D printer cools because of the Ultrabase coating. The heated bed on this printer can achieve temperatures of up to 110 °C. In fact, this printer can achieve a maximum temperature of 260 °C in its high-temperature mode. That's enough for printing with plastics, such as PETG, PLA, and ABS.
The regular 0.4 mm brass nozzle on this 3D printer works well and is compatible with a variety of filaments. In conclusion, this affordable RepRap 3D printer is great if you need your prints made rapidly.
5. Voxelab Aquila
The Voxelab Aquila is ideal for starters who wish to gain knowledge about 3D printers. It is available as a kit and takes 40 minutes to assemble. However, a newbie may have difficulty putting it together because the steps aren't clearly stated.
Interestingly, this FDM 3D printer resembles the printer Ender 3 and possesses similar specifications. The majority of the parts that work with this 3D printer also work with the Ender 3.
The textured glass top that rests over the aluminum bed is one of the best features of this RepRap 3D printer. It has good adhesion and makes it simple to remove prints after 3D printing. This budget-friendly printer can print PETG, ABS, and PLA at 100 °C on the bed and 250 °C on the hot end.
Its construction volume is 220 x 220 x 250 mm. The printer can print in sizes ranging from 100 microns to 400 microns at speeds ranging from 50 to 80 mm/s. The color TFT (Thin Film Transistor) screen is another appealing feature of this printer. It is easy to operate. It doesn't have a touch option, though.
Conclusion
For the time being, it is impractical to completely 3D print a 3D printer using regular desktop models. While you can 3D print more than 50% of a 3D printer, there are still limitations imposed by the available devices, printing techniques, and materials.
Do you want to know how to make a 3D printer? Check out the video below:
Click the following link to learn how long a 3d printer lasts.