Wax 3D printing goes back to the 1990s when it was used to create prototypes as well as for the creation of master molds for lost wax casting.  Since then, the technology has evolved and expanded.  Now you can use wax to create very precise 3d models with intricate geometry in different colors and with different properties.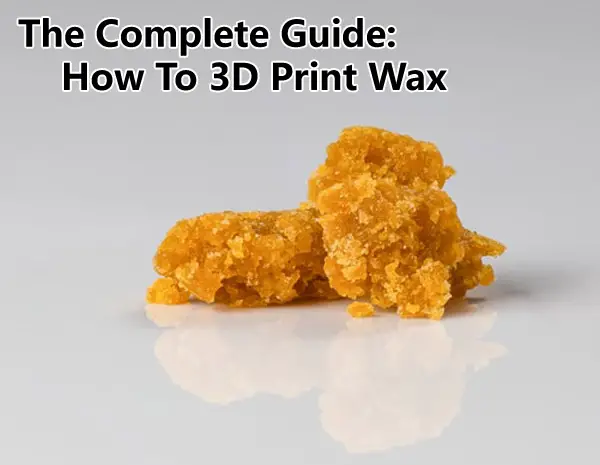 Let's look at the technologies involved and steps that need to be taken.
3D printing with wax employs different techniques to achieve particular results. There are four basic steps to 3D print with wax:
Choose a design, plan, or image to print
Decide which technique aligns with the budget, needs, and production time
Select a wax that fits the project
Print
3D printing is growing at a rapid rate. With the introduction of wax filament to 3D printing, it is easier than ever to bring your ideas to life and even to create molds for mass production. Let's talk about how you can 3D print with wax, what the pros and cons of using wax are, and the best of the best when it comes to choosing materials.
Wax 3D Printing
3D wax printing is commonly used in jewelry making as well as the creation of artwork or even in dental offices.
While 3D print wax can be used to make items entirely out of wax, it is most commonly used to create molds to be used with other products such as metal, plastic, or resin.
Sometimes referred to as additive manufacturing, 3D wax printing has given many industries the ability to create products beyond what they imagined possible. 3D printing is essentially building a 3D item layer-by-layer.
Wax 3D Print  Techniques
Although this is done with many different mediums and filaments, 3D printing with wax has become one of the most popular options to use.
Here are the most popular 3D printing techniques with wax:
Material Jetting
FDM 3D Printing
Drop on Demand
Lost-Wax Casting
In order to 3D print with wax, you need to have the appropriate skills, machinery, and wax filament to bring your ideas to life. Once you have those, you can use the techniques listed above to begin making anything you want.
If You Don't Have the Setup for 3D Printing Wax
While 3D printing with wax may seem simple, having the appropriate materials and machinery can become expensive if you do not use them to produce items on a massive scale. It is not uncommon for people to send their designs, plans, or ideas to a printing company.
How to 3D Print with Wax
While wax may not seem like an excellent medium for printing, it is one of the most popular modern-day 3D printing options. While the wax that is used in printing processes is not actually wax like you may be imagining, it does share similarities with traditional wax.
The wax that you pick should not only fit into your budget but be appropriate for the item you are trying to design and print. If you are unsure of what to use, your printer should offer recommendations.
Step-by-Step of 3D Printing With Wax
3D printing with wax is a relatively straightforward process to explain as long as you have the right materials. Due to the high cost of both materials and the machinery needed, many people feel like it may be more intense than it actually is.
Here are the main steps of 3D printing with wax:
Create a 3D design that you want to print
Load your design into a 3D printer that is compatible with wax
Wait for your design to be printed
Dip your creation into a soluble support dissolving solution
If using a mold, create the mold around your object
Melt away wax and fill a mold with your substance of choice
Depending on what you are creating, you may go on to create molds with your 3D model, or you may be finished after the virtual object has been printed into a 3D model. It is also worth noting that most 3D printers can be modified to use wax as a filament.
What is 3D Wax?
As previously mentioned, the wax that you use in 3D wax printing is not precisely the wax that is in your favorite candle. Unlike traditional wax, the wax filament that is used for most wax printing is a combination of resin and wax.
This combination ensures that the "wax" will have similar properties to the wax you may expect to use, but the resin allows it to be cured and solidified if needed.
Why Use Wax for 3D Printing?
Wax is not only inexpensive but also environmentally-friendly. Wax-based filaments release far fewer fumes and use less energy than other 3D printing materials. It has a lower melting point.
Wax also allows for very high-resolution printing, with enough precision for intricate or finely detailed projects, such as jewelry. It has a layer resolution of 0.025 mm, meaning each layer is about ¼ as thick as a piece of paper.  That gives you an idea of how precise this material can get.
More Pros and Cons of 3D Printing with Wax
As with most things, there are definitive pros and cons when you are using wax as a filament for 3D printing. Depending on what you are using the wax for, you may or may not run into complications ranging anywhere from cost to how the wax itself reacts. Let's go over the pros and cons of 3D printing with wax:
Pros:
Can be printed to support itself
Provides the ability to create highly detailed models
Can be changed to suit color needs
Wax does not have as high of a melting point as other materials
Wax protects your model from dissolving when in contact with water
With the introduction of Wax 3D printing to many industries, it makes it easier than ever for a customer or producer to get precisely what they want. Doing this cuts down on the alterations or changes that are frequently seen post-production process.
Cons:
Wax needs to be treated to become more stable
This material needs to be maintained at specific temperatures
Requires extra steps in order to use it prior to printing
Printers may need to be altered in order to use wax
One of the major cons of 3D wax printing is that it is taking away from artisans who have dedicated their lives to creating delicate and highly detailed products, especially in the jewelry industry.
What are the Techniques for 3D Printing Wax?
As with most products, there are different techniques that you can use to bring your 3D models to life. While these are not all of the ways you can 3D print with wax, they are the most popular. Let's talk about material jetting, FDM 3D printing, and drop on demand.
Material Jetting
This is actually the best option for 3D printing with wax. Material jetting takes place when you use a printer to assemble your design drop by drop in the shape of a line.
Using the drops, your item is built layer-by-layer and is cured between each of those layers. Material jetting uses lines to form the entire design, and as one area is completed, the printer starts in another area.
FDM 3D Printing
Out of all of the ways you can print with wax, this is the most traditional method and the way that you may find the easiest. Most additive manufacturing printers utilize multiple printer heads to distribute the wax needed to make the model. These heads are often heated at different temperatures to add and remove wax as needed for the design.
Drop on Demand
Drop on demand is similar to material jetting and is one of the most popular options. Unlike material jetting, this process uses small dots of material to build your item. If you are familiar with jewelry making, then this is likely the process that you have used. It prints with two solutions: the wax-like solution and one being a material that supports the other.
Lost-Wax Casting
Depending on who you talk to, this may be a controversial wax printing technique. While you are technically printing a model with a particular technique or printer, you are essentially printing out a mold to use with other products such as metals, plastics, or other forms of resin or wax. Some creators may see this as merely mold-casting and not necessarily 3D printing.
How Do 3D Wax Printers Work?
Although there are different printers on the market, most printers that can utilize wax all have similar features that work in similar ways. Knowing what features to look for and how they work can help you make the right decision if you are looking to purchase or even rent a 3D wax printer.
Here are the fundamental aspects of a wax printer:
Printer Heads
UV Light Sources
Building Platform or Workspace
Material Container
How It Works
You typically load your design into a 3D printing software on a compatible computer with your printer.
Once the design is to your liking, the software will send the plan to the printer.
Ensure that your wax substance is loaded into the material container.
Once the printer begins, it may form using lines or individual drops depending on the printing method you are using.
You can then wait for your design to be printed.
Lastly, dip the project into a solution to help fortify the wax, or use a UV type light to help harden the resin in your wax-like substance.
What to Look for in Your Printing Process or Printing Machine
If you are considering purchasing your own 3D wax printing device, there are a few things that you may want to think about.
The first is what your personal or professional needs are and your budget and area that you are working in. In terms of the printer, here are a few aspects that you may want to consider:
Ink jetting system or drop-on-demand feature
Ability to distribute two materials at once with different temperatures
UV light sources to solidify and strengthen the wax
Most Popular 3D Wax Printers
If you are looking to take the next step in 3D wax printing, you may be considering purchasing a machine that you can have in your own space. Not all printers are created equal, and here are some of the most popular 3D wax printers that you can find on the market right now.
Solidscape's S300
If you are looking to have the best possible detail from your 3D wax printer, the Solidscape S300 series is perfect for you. They are easy to use, learn, and can produce your designers at a faster rate than most other printers on the market.
If you are looking to use dissolvable supports, this is a great 3D printing option for you. See Solidscape's 3D wax printer in action in this video:
ELEGOO Mars UV 3D Printer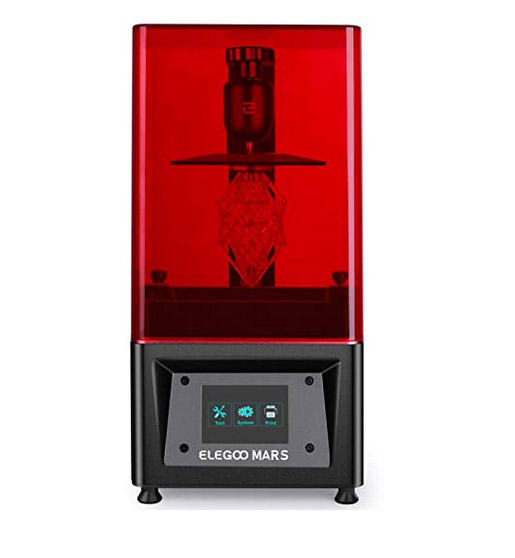 This printer is built to work with resin and wax-based filaments. It's decently-priced for the amount of detail and resolution. It has a color touchscreen. It comes semi-assembled, so you can be printing almost as quickly as you can get it out of the box.
It's easy to use and high-quality for the price. Check it out here.
Formlabs Form 3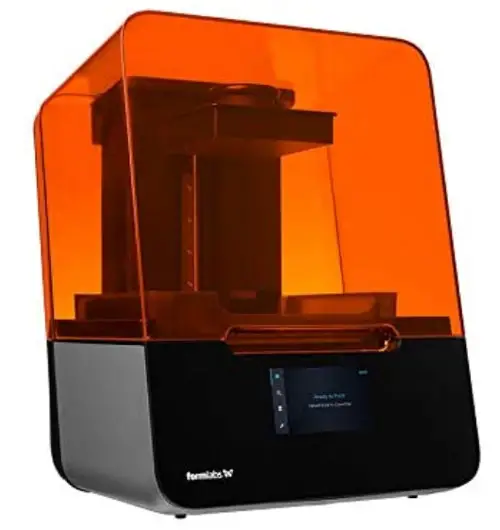 The Formlabs can print in many materials which makes it great for a prototyping studio, including wax resins. It features a touch screen as well.
This printer also has software that is specifically designed to work with it. Check out Formlabs to learn more about their options for printing with wax.  Click here to find current pricing and purchase.
Anycubic Photon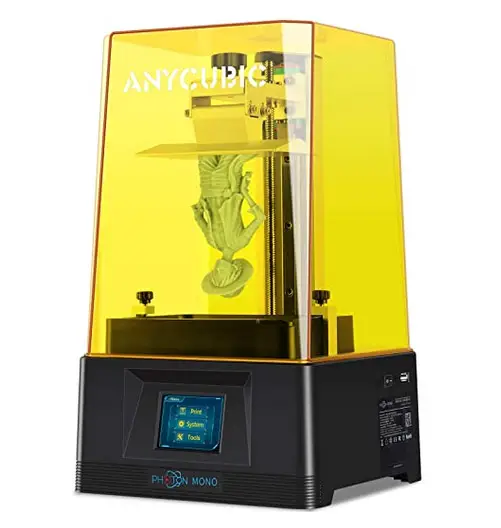 For those who are concerned about sticking to a particular budget, this is an excellent printer option. Coming in around $200, this printer features a touchscreen, a compact size, and an integrated UV light.
Like many other popular 3D wax printers, this comes with software unique to the printer, as well as tools to help you get started immediately. Check out some Anycubic Photon options.
Most Popular Wax  for Printing
Now that we have talked about the best printers on the market and what to look for, we need to cover the best wax to use in your new printer. Very similar to choosing a 3D printer, you need to make sure that the wax you choose to work with works with not only your printer but also the industry you are working in.
Print2Cast:This 3d printing filament is great for lost cast waxing as it provides very clean burnout.
Carbide Wax Block: Known for being straightforward and quick to work with, the Carbide Wax Block is a favorite among those who use subtractive machining. Although it is a softer material, it is known for providing highly detailed end products.
PORO-Lay Mold-Lay Filament: Something unique about this wax filament is that it is more plastic-based. If your printer has a problem with heating up the material, this has a low heating point at which it prints and has very limited warping during production stages
Formlabs Castable Wax: For detail and smooth surfaces this castable wax resin is great for patterns for casting and pressing dental prosthetics.
Where You Can Have Your Items Printed
Due to how expensive and complicated 3D wax printing can be, it is often better to have your items professionally created.  Not only will you be able to have your design created precisely how you want it, but you also won't have to worry about storing or purchasing expensive equipment that you may not use on a regular basis.
Sculpteo: Sculpteo is a site where you can directly upload your file that you want to get printed. From there, you can choose the material, the printing process, and even how you want your pieces finished. If you are looking to use wax 3D printing as a retail service, Sculpteo also does on-demand printing as well.
Shapeways: Shapeways is one of the leading 3D printing services out there. They use industrial tools to create products that you can sell or use immediately after receiving them. By using well-known tools, they have a fast turnaround and can even help you in the designing process as well.
Final Thoughts
As many industries change, society is having to change the way in which products are created. 3D printing is nothing new, but advancements in technology are offering more and more choices in how things are created as well as what they are made from.
3D printing with wax may seem complicated, but it really boils down to a few simple steps. Depending on the industry you are in, you may be creating a wax product to use as a mold, or it could be your final product.
As with any production service, there are both pros and cons that you need to factor into not only your costs to create but also your personal or professional life.
Knowing the 3D wax printing process can help you decide if you need your own machine for your home or workplace – or if you should consider outsourcing your products to get the detail and results at a time that fits into your schedule. Make sure you price out both choices to work into your budget and return on investment.
Click the following link for a guide on 3d modeling for 3d printing.