In 3D animation, whether its for medical purposes or general animation, there are various ways of interacting with the computer, from a basic mouse all the way to advanced haptics devices.  This in part depends on where and how you work.  Working in VR is completely different than at a desk.
In this article I will discuss using a tablet for 3D animation including the pros and cons, tips, and the workflow.
To use a tablet for 3d animation, make sure that you have a quality tablet with good pen sensitivity and the correct size, adequate tablet buttons, a secondary input device to reduce repetitive motions, and tablet control options to adjust mapping and pen settings.  For self contained tablet PCs make sure the software can run on the tablet, the tablet specs are adequate, it comes with buttons, and the screen is large and bright enough.  Let's get into the details.
A note on what I mean by tablet for 3d animation.  There are drawing tablets such as Wacoms that connect to your computer via bluetooth or cord and there are self contained tablet PCs which do not connect to a computer.  I will discuss both types here.
Modeling vs Animation
3D modeling is different than 3D animation in that in the former one using a tablet pen is sort of like using a tool to sculpt clay or wood in real life.  Its very natural in programs like Zbrush compared to a blocky mouse and we area already used to using pens for drawing.  A tablet is great for sculpting, rotating objects without clicking thousands of times, applying textures, painting the model etc.  In 3D animation its a little different.
In animation, instead of using the pen to sculpt an object you set keys, edit graphs, move nodes.  All of it can be done with a pen and tablet. Its actually fun to work in graph editors and hierarchy editors with a pen.  Some functions may not be as comfortable such as middle and right mouse clicks, but you can always use the side buttons, a second mouse (one trick is to take out the ball or tape over the red laser if you just want to use it as a stationary clicker), or any other device like a 3D Connexion controller.  You can even program your keyboard to do mouse clicks, get a USB programmable keypad,  a touchpad, etc. The possibilities are endless and new devices come out every year. For me personally a 3d controller, keyboard, pen tablet and a mouse cover all my needs for any task.
Of course many programs have animation and modeling built into the same software, and it that case i use a tablet for both.  For me personally using a tablet for 3D is much faster and more intuitive than using a mouse whereas for something like browsing the web or writing a book it would be slow and unpleasant.
Tablet vs. Mouse
There's this industry tale of a guy who was looking for a VFX position, and during the interview, he was asked to perform a certain task. He picked the mouse instead of the tablet pen. At this point, the interview panel had already determined his verdict. However, this is simply an amusing tale, and there are many talented visual artists who animate using a mouse. For most things, you can use a mouse on a 3D animation project. While a mouse is perfect for scrolling, browsing the internet, and doing basic jobs, using a drawing tablet will help you capture detail and do other things more effectively and accurately.
When working with a drawing pad, it does not mean you should discard the mouse as they can work together. Some tasks are mouse-oriented, while others are complete and simpler with a stylus. All this depends on what you do. The downside with the mouse is that it's clunky in your palm, so after extended use, the palm will begin to cramp. You want tools that are comfortable on your hands, so only use the mouse on small parts of the project where it's absolutely necessary. A tablet allows you to move faster, and your work will have much more detail.  Keep in mind that alternating input devices rather than sticking to one for 8 hours a day will save your hands.
Now drawing tablets exist which have touch functions which let you use your fingers to draw on and touch the surface to activate different tablet functions.  This is in addition to using built in tablet buttons and in my opinion gives your workflow (and health) a boost.  Wacoms also have great extra features that let you control how the tablet pen interacts with your software which allows you to modify your workflow even more.  These include Hover Click where you just hold the pen in the air and click its buttons to activate it, and Click & Tap where you click a pen button and then tap the pen on the tablet to activate a function.
Personally I find a tablet much easier and better for my health (wrists, fingers etc) than a mouse.  When it comes to 3D modeling it is a godsend compared to clicking and holding down a mouse thousands of times. The pen can be adjusted for sensitivity and clicks.  You dont even click it just draw with it.  And after having bouts of RSI where I could not work being careful what input device you use all day to make a living takes on a new meaning.
Im always experimenting with combining a pen tablet with other input devices to get the best workflow, and as new devices come out, my workflow changes.  We all know that mice are bad for you and a pen is much more natural. If you are young you will find this out sooner than later.  I would never stick to just one input device for every function.  If something feels uncomfortable, switch around.
Size of tablet
For 3d animation, I find that tablet size is not as important as in drawing.  You can get away with the smallest Wacom which is great for portability and travel.  Keep in mind however that if you have RSI issues where its better for you to decrease motion sensitivity and make larger motions with your arms rather than flicking your wrist a lot, you might want to try a medium or large tablet.  Or if you just prefer a larger surface.   You can always change settings to use part of the larger tablet only, as long as you have space on the table.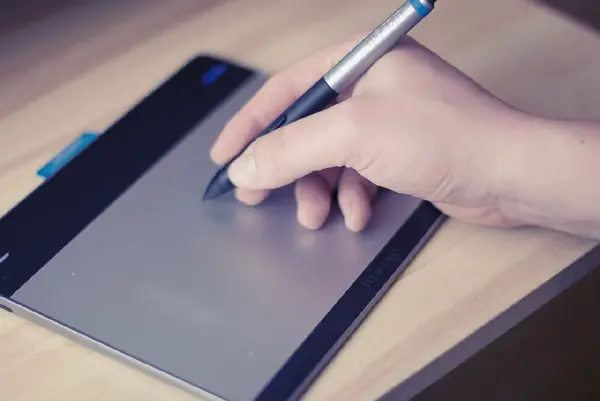 Software compatibility
Your tablet should have no problems working with 3D software.  For programs like Zbrush its actually the preferred input device.  For others the pen functions like a mouse.  People are coming up with custom UIs and shortcuts for 3D programs that make them more pen friendly so look into those.
Also, if you are looking to use a self contained tablet for 3d animation and modeling, whether its a Wacom or other brand, there are apps out there that simplify the 3d program so that it better suits a tablet, for example Tablet Pro.
How to Animate on a Graphics Tablet
Getting started with a graphics tablet for 3D animation is easy if you have the right software. Connect the tablet to a computer via the USB cable, then download the drivers needed. Load the animation software you chose for your project. For a tablet computer, everything is included in one interface, so you don't need a connection to a PC to get started.
A drawing tablet offers a plain dark drawing area, which you can use for your art work. It does not show images, but you can connect the tablet to a computer, so your strokes are displayed on the computer screen. What you must remember is that your eyes should be on the screen and not the tablet, because the screen is where the final product shows.  If you have never used a drawing tablet before it will take some getting used to in terms of your hand and eye coordination.
You can assign functions to your tablet and pen for your software.  Tablets like Wacoms allow different profiles for different programs.  So for example for Maya you can set the pen tip as a left mouse button, and the side button ends as middle mouse button and right mouse button.  See how your workflow is with just a tablet and a keyboard.  If you are finding out that you need more buttons or better ergonomics, you can always add a device to your other hand, like a 3D Connexion controller or touchpad.
Alternate your inputs so no part of your body gets sore.  You now have different ways of doing the same activations and you should vary them, whether its controlling with a pen, a mouse, keyboard, or 3d navigation device.  This is especially useful if you get tired of clicking on menu items with a pen as its not the optimal device for that.  But you can always program pop up menus like in Maya which will show where you hover your pen and then tap on menu items.
Use your other hand to supplement your pen hand if you find using the pen side buttons cumbersome or not fast enough.  You can just use the tip of the pen and do RMB or MMB clicks with the other hand, or even a foot pedal.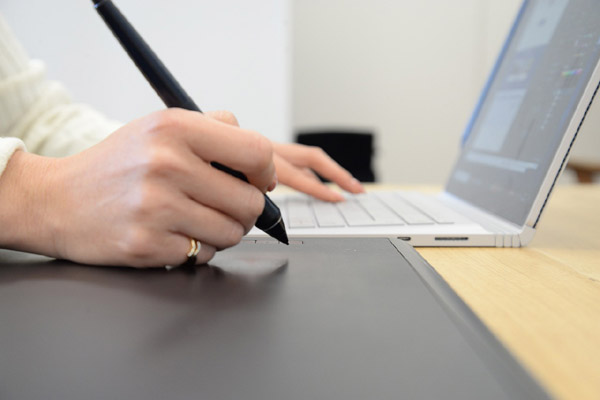 After some getting used to you will find that using a tablet is actually faster and more intuitive.  The mouse will feel like one of the first computer mice ever invented- a brick with buttons.
3D Animation Software That Work Well With Tablets
Along with the right hardware tools, you need good software for your 3D animation project. If you're looking for animation software that works best on a tablet, there are many programs you can use that suit beginners and experienced animators. The pool of software on the market is too large, it can be easy to get overwhelmed. Here are some suggestions you can check out to get started.
Tablet for 3D Animation – Things to Look For
To choose the best tablet, you should consider several performance conditions. A good tablet for 3D animation should provide the right software and hardware specifications. If you're looking for ideas to choose the best tablet for 3D animation tablet, consider a tablet that meets these important requirements.
Display and Graphics Tablets –The types of tablets you want to consider for animation should include display and graphics tablets. Display tablets work as like you might have assumed – these are tablets that offer display screens. On the other hand, graphics tablets are drawing surfaces that require a connection to a display externally to function. In this case, you will need a monitor to display your work. A display tablet is the preferred option for 3D animation. It combines the display and drawing surface in one place, making for a smooth drawing experience. This makes it easy to use the different animation programs. However, these cost more than their graphics counterparts. So, if you have a good monitor, the graphics tablet will be a more cost-effective solution.
Size – When you talk about size for a 3D animation tablet, you're talking about two things: the overall physical size of your tablet and the drawing surface. The size of your tablet matters when it comes to 3D animation. You will need to store and transport the tablet, but a larger tablet offers more inputs and comes with more space for controls. When considering screen size, it's important to consider the amount of drawing space you need. While it seems like an obvious solution would be to get a big tablet screen, this can drive the cost of your preferred unit up, and the tablet may simply offer more space than needed. Of course, this depends on the animation you want to do. It's important to look at the art critically to know how much space you need.
Shortcut Keys and Controls – This might not seem very important if you're an experienced user, but having a suite with customizable shortcut keys can super-charge your workflow. There are tablets with several customizable keys, some offering up to 16, while others have none. Consider your preferences to find the type of 3D animation tablet that will make your work easier.
Pen Sensitivity – Among the reasons tablets are so good for 3D animation is because you get a drawing surface and a pen you can control easily. This is a more accurate drawing solution compared to using a mouse. However, pen sensitivity is an important factor that can determine your experience. Some pen sensitivities go as high as showing the ability to recognize 8,192 levels of pressure, allowing you to get truly granular with shape and line thickness.
Budget/Price – This is an important factor when out on the market looking for a tablet for 3D animation. While you might want the best tablet for such tasks, your budget can get in the way, so always define how much you can spend on the product. This will help you know which categories of devices you can search for your new tablet. Often, the more you spend, the more you'll get, but there are cheap animation tablets with the features you need to complete 3D animation projects.
Can You Use a Tablet PC for Animation?
Looking at all the requirements for 3D animation, you might be asking if it's possible to use a self contained tablet for different 3D animation projects. Indeed, you can find tablets with the performance specs that make it possible to create 3D animations smoothly. Because this is a processor-intensive process that also requires good memory, most of these tablets offer a good deal of memory and processing power. The best drawing tablets allow you to enjoy great portability and efficiency in the animation process. And this does not mean you must find the most expensive tool to accomplish the process. Even professional-level animators use tablets more and more.
Hardware Requirements for a 3D Animation Tablet
To ensure a smooth animation process, you want to find a tablet that meets the minimum hardware requirements for 3D animation. You can find tablets in different categories, including Apple iPad, Android, and Windows tablets.
Windows 10 Drawing Tablets: For professionals or advanced animators, Windows tablets offer one of the best experiences. The recent generation of Windows 10 graphics cards and processors allow for a fast and problem-free creative process while working on 3D animation projects. Most older computers offer slower processors and don't have sufficient memory to handle the system requirements of 3D animation software. While animating, you don't want glitches and lags, as this will hold you back from the goals you want to accomplish. If your choice is a Windows tablet, you want at least 16 GB of RAM, at least an Intel i7 CPU with at least 4 cores, and the GPU should feature the latest generation Intel Iris Graphics 550, Nvidia GTX, Quadro, or RTX, with at least 4GB VRAM.
Apple iPad Drawing Tablets: Apple line of computers is another option you can use for 3D animation. On the Apple platform, you can find great asset creation software (3D graphics apps that allow you to create excellent 3D images, objects, scenery, and characters). If you settle on the Apple iPad, the ideal setup is to find iPad Pro for 3D asset creation (creating characters, painting scenes), then you can transfer the project to a MacBook Pro to complete animating, rendering, and viewport. This is more expensive, but it gives you more possibilities and works perfectly that most skilled animators use it.
Android Drawing Tablets: The difference between Android and Windows or Apple tablets is that you will not get the most powerful solution in this case. Even the most powerful processors for Android cannot match the capabilities of Windows and Apple tablets. However, this does not mean this option is completely discarded. You can still work on basic, short animations. If you want to take them to the highest level, you will need something like the Samsung Galaxy Tab, which can handle any software effortlessly.
How to Set Up a Graphics Tablet
A graphics tablet like Wacom Intuos works perfectly with Chromebooks and Windows. To get started, follow these simple steps:
A) Plug the USB into your tablet and the computer.
B) Download and install the required drivers for the type of operating system you're using. Wacom offers drivers for Mac and Windows devices. This is not required on Chromebook.
C) Restart your computer (for windows) and follow all instructions to set up the system and get the software.
D) If you're using Wacom, you might need to sign-in to get complimentary software. Software compatibility will depend on your operating system.
Here is a useful video on using tablets for 3d animation:
Conclusion
When looking for a good tablet for 3D animation, you want to choose a device that meets your project requirements. There are different things to check in this case, including RAM, storage space, and size of the device. Besides tablet computers, you can use graphics tablets, which pair with your computer. These give you more convenience than a mouse and help you create more detailed work. For the perfect 3D animation, find the perfect software to use with your animation tablet.
Click the following link to learn why Wacom tablets are expensive.