If you are an illustrator, animator, graphic designer, or someone having any kind of dealings with digital arts and wants to kick it up a notch — the first thing you should be doing is to invest in a useful drawing tablet. And by 'useful drawing tablet' I mean to find an input device that functions as good as the day you bought it, even after a decade.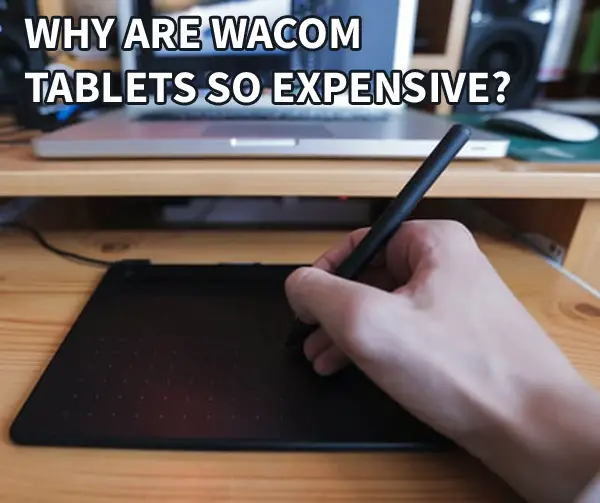 In this regard, Wacom tablets are usually highlighted when you are looking for a graphic tablet that could help you increase your workflow, but when artists are sizing it up, the most common thought that comes to mind is if the price justifies itself?
As compared with other drawing tablets, Wacom tablets excel in terms of intuitive control options, technology, overall performance and durability, resulting in being pricey. There is still not much competition and customers have brand loyalty after years of use.  In general, Wacom tablets have what the other brands lack and there are some potential reasons behind it. Let me explain.
In this article, I will disclose the main grounds for Wacom tablets being more expensive than other drawing tablets.
Lack of Competition
Being a drawing tablet that has great brand recognition — Wacom tablets are often considered over others because of their less impressive substitutes. Take mobile brands for example, those who are fed up with Samsung phones (android) can switch to an iPhone (iOS) and vice versa.
But if we ponder the idea of switching to a different graphics tablet brand, we are not left much of a choice other than sticking with Wacom.
However, to think that the lack of serious competition is the basic cause of Wacom tablets being so expensive can not be wholly true. Sure, Wacom has always been a recognized brand name out there when it comes to buying a decent drawing tablet — but these days, this is slowly changing.
For a long time, Wacom has been known to be the one brand manufacturing large graphic tablets and pen displays. That being the reason, those who needed a tablet with a large drawing area had no other choice than to go for Wacom's. Though that is not the case anymore, brands like Huion have also introduced large graphic tablets, Huion Giano for example.
Wacom Is An Authentic Product With Market Acceptance
The durable and convenient graphics tablets of Wacom have earned great market recognition. When asked for Wacom's build quality — a user reported in Quora "I have been using Intuos 4 for a considerably long time (almost 15 years), though it looks a bit weary but works as good as the day I bought it".
Some non-Wacom tablets have proved to be nifty and useful but thats for a non-professional, short-run usage. You would find people complaining these tablets break  easily and not having the best drivers installed.
Despite the fact that other tablet manufacturers started making high build quality tablets like Wacom (some already have), it would still take them some time to earn the market recognition Wacom has or that they deserve.
In terms of build quality, Wacom graphics tablets are often praised. It is also a matter of brand loyalty. The amount of trust and overall adequate build quality has made Wacom tablets best for professional use and if we consider how long they last, it justifies the high price tag.
They Have A Great Driver Support
Not every manufacturer out there has tablets with flawless drivers and neither is the case with Wacom, but what makes Wacom special is that they are known to release continuous driver updates for their tablets. Consider Graphire 3 for example, which was released in 2003. It kept receiving continuous driver support until 2014, that's 11 years of drivers support for the tablet.
Likewise, the Intuos 2 which was released in 2001 also kept getting driver support until 2012 for a continuous 11 years and thanks to that it still works with Windows 7 and all the earlier versions of it. Though, the old Graphire 1 tablet had fewer years of driver support, from 2001 to 2007. And in a sense, this is a good call as Wacom is supporting their tablets now more than they did in the past.
However, we have yet to see if the other drawing tablet manufacturers provide something like Wacom does for their buyers.
Better Technology
Wacom tablets come with technology and features that remain to be seen among competitors. All Wacom tablets provide at least 2048 levels of pen pressure sensitivity, though most of the users won't feel a need to go above 512 pressure sensitivity except for those who are involved in making much detailed art.
Professional and premium tablets of Wacom like the Intuos Pro have some exceptional features that the competitors are missing. Tilt sensitivity and multitouch for example, though there isn't a big number of users that could use tilt sensitivity feature but those who do, have no other option than to choose Wacom.
Wacom Tablets' Dominant Features
Wacom tablets are known to be professional ones for a reason, as I stated before, Wacom tablets usually stand out in terms of features and overall performance. The first and most important factor looked for in a drawing tablet is if it makes your experience enjoyable and as close to real drawing as possible. Thanks to Wacom, they have made their products pressure-sensitive so that artists can get their projects up to par with paper illustration.
For tablets that have displays built in, the display is another significant part of a drawing tablet, after all, it is what you see and work on. When comparing Wacom's display to that of competitors', the colors appeared more vivid when working and were easier on the eyes.
Wacom facilitates its users from beginners to professional illustrators with different models and sizes of the display, for example, if you are a beginner and starting out, you might look for a smaller and appropriate display — Wacom One Tablet should be your best bet. Likewise, if you are an intermediate artist and want to elevate your game a few notches up, go for Wacom Cintiq, it's pricey but with additional features as well.
Are Wacom Tablets Worth it?
This has to be the most common question asked among artists because of their high price (if not overpriced) tablets. But if we consider what the tablet actually provides, it is worth giving a second thought. The matte surface of Wacom tablets feels smooth and paper-like as if you are working on an actual paper, which also helps you make your strokes more accurate unlike any of the iPads.
The screen is also pretty good, the users cannot ignore the fact that it is highly useful when it comes to color representations and the comfort of being able to draw directly and precisely on the screen. Moreover, if you are a pen snob and that matters to you a lot, many of the stylus/pens gradually come to a point where they are not as good to work on a detailed project. However, Wacom tablets feature pens that are known to have less to no issues with them. Plus they have been a favorite pen among many artists.
Although it's not always about smooth surfaces or great pens, you can still face some issues/inconvenience here and there. One of the problems that can be potentially encountered is that you won't find any hotkeys buttons or areas on Wacom One tablets. Therefore, using your thumb to click on 'undo' and 'redo' buttons can be frustrating but it is a condition.
For inconveniences like those, either you need to have your keyboard in reach or manually navigate the menu on the screen, and that could be time-consuming. However, there is a solution to that specific problem, users can get a  Wacom ExpressKey Remote.
This multi-button device is made to have all kinds of features like undo, redo, changing, and adjusting the size of the brushes, and whatnot.
For the most part, Wacom tablets prove to be useful and nifty devices that have helped artists to get the most out of a graphic tablet. The minor defects are negligible or can be easily sorted out. Its durability and better features than its competitors have also been a reason for its being costly.
Putting It All Together
Graphic tablets have been a great convenience for artists, illustrators, or anyone involved in digital arts, but that is only the case when you have the right tablet with you. Wacom tablets may be found to be expensive but many users have reported them being worth it for many different reasons.
Not only do they have a lasting build quality but also exceptional features. Moreover, Wacom tablets receive up-to-date driver updates to work smoothly with your device. Customer loyalty and market recognition have also helped Wacom to be at the top when it comes to choosing graphic tablets.
If you are interested in finding out the most affordable Wacom display tablet, watch Aaron Rutten's neutral review about it:
Finally, choosing a substitute with close if not the same specifications to Wacom is considerable but we are yet to see if any of the competitors come forward with this kind of a strategy to turn the tides in their favor.
Click on the following link to learn if you can use a Wacom on two computers.