3D printing is one of the most exciting technologies of modern times. It may seem like all you can create with 3D printing are simple things made of plastic. But since innovation has no limit, people from various backgrounds are making serious efforts to use 3D printing to solve major problems. One such example is 3D printing organs.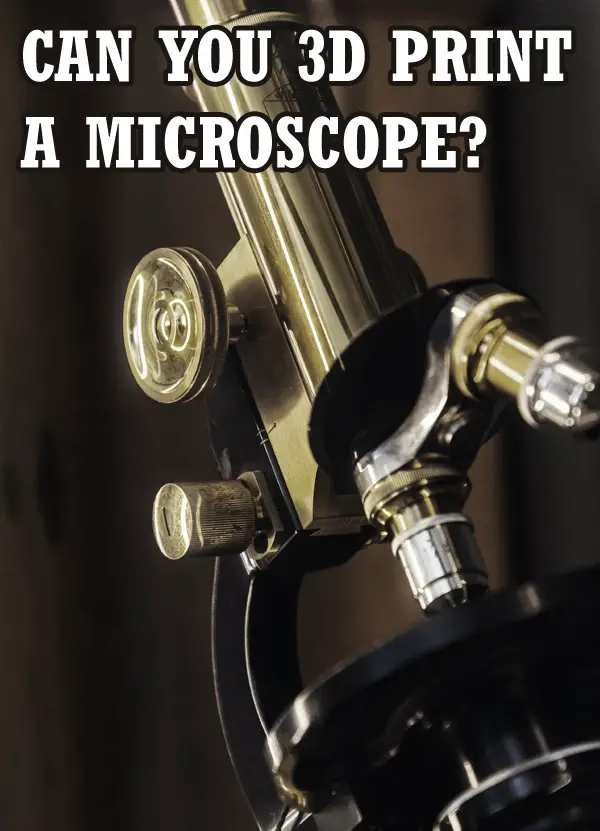 Yet another scientific problem that the world is facing is the lack of accessibility to technologies like a microscope, worldwide.
So, can you 3D print a working microscope?
Yes, a microscope can be 3D printed. Every part of a microscope can be 3D printed, assembled and used for academic and research purposes. In fact, certain companies sell 3D-printed microscopes specifically, to make microscopes affordable and accessible to everyone.
Certain open-source projects specifically produce 3D-printed high-end microscopes for people who need a good quality microscope for any reason.   3D printing a microscope brings down the cost of a microscope significantly, making them more affordable.
What Are The Benefits Of A 3D Printed Microscope?
The purpose of a 3D-printed microscope is simple— to make microscopes more accessible to the common man.
It's no secret that lab equipment, especially high-end ones like a microscope can be extremely expensive. This makes it difficult for most people to be able to afford high-end equipment. Researchers often heavily depend on funding to be able to buy this equipment, but someone with limited funding or someone who is a hobbyist may not be able to afford the kind of microscope that will serve their purpose.
Additionally, many countries don't have access to much essential lab equipment, including microscopes. And imported brands may cost a fortune. Lack of access to the required technology is one of the major reasons why the field of research only thrives in a few select countries— which is not good as many potential candidates with great ideas can never execute their research. 
This problem can be solved with 3D printing a microscope. 
3D-printed microscopes are much cheaper than regular microscopes. It has been noted that the price of 3D printed microscope parts is 50 to 90% less than the cost of commercially made microscopes— depending on the parts. That's a huge difference for anyone with a limited budget.
Many open source projects, like openflexure, miCUBE and UC2, also allow customisation of the microscope as per the requirement of the consumer.
So, 3D printed microscopes are more affordable and customisable, and you can get the customised 3D printed microscope made in a relatively less time. This way better technology can be made accessible to many.
Additionally, certain other open source projects like cellSTORM are making an effort to make microscopes more portable, by using a cellphone camera.
What Parts Of A Microscope Can Be 3D printed?
Currently, every part of the microscope can be 3D printed— except the lenses and mirror. Technically, even the lenses can be printed using a 3D printer, but usually requires some additional effort and technology to make it completely transparent. So, if you are planning to 3D-print a microscope yourself, it'd be easier to get the lenses from disposable cameras or purchase them separately.
A 3D printer is capable of printing highly complex microscopic parts easily and allows rapid prototyping. The parts of the microscope can be printed individually and then assembled. 
Additionally, various open-source projects make 3D-printed microscopes, like OpenFlexure and UC2. Their microscopes are extremely affordable, but they don't necessarily look like the traditional microscope. These open-access projects are creating non-traditional designs to make the microscopes affordable, portable, and accessible.
Various 3D-Printed Microscope Open-Access Projects
So, Why A 3D Printed Microscope?
3D printing can be used to solve many problems. In the field of research and education, 3D printing can make microscopes more affordable and accessible to anyone interested in the field of science.
A researcher with a low budget, a country with less access to modern technology, a school or a hobbyist— all can now have access to a good quality microscope that produces good quality images and is affordable. 
I hope that this article has given you some inspiration on what is possible in the world of 3D printing in the world of biology.
You can read more about 3D modelling for 3d printing here: A guide to 3D modelling for 3D printing.