Wouldn't it be great if you could do all your 3D modeling work on an iPad and not be tied to your workstation location?  Imagine the freedom to model anytime and anyplace like on a train, on vacation, at a coffeeshop.  But is this a reality today?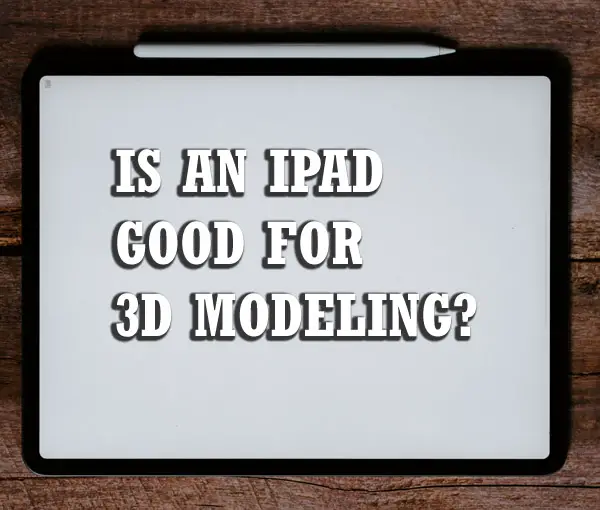 In this article, I will explain what can and cannot be done in terms of 3D modeling on an iPad, including what 3D software options are available for this platform.
Pros And Cons Of an iPad For 3d Modeling
If you are looking to do 3d modeling on the iPad, there are both pros and cons to consider. While 3D modeling is not an easy task, there are a few advantages to using an iPad that should be taken into account.
Pros:
Easier to Learn
3d modeling on the ipad is easy to learn and use with the touch controls which means less time investment in learning 3d modeling software. This can also help you reduce the learning curve for new users as well.
Flexibility and Portability
With a single app you are able to switch between different types of modeling for different tasks; whether it be simple basic modeling and surface-drawing to advanced polygon-based modeling techniques. Being able to take your iPad with you wherever you may need it means you can model on the go which makes it ideal for people who want to model outside of their home or work space.
Powerful Features
The iPad's hardware allows you to do 3D modeling with more comfort and detail due to the iPad's high DPI display which means a sharper image on your screen with fewer distractions while working in the apps. It can also allow users to make more detailed models with textures and effects allowing for greater realism.
Easily Shareable
The Pad's connectivity makes it easy to share your models with others. Whether it is using Instagram to post your work or just emailing the link to a friend who wants to see your work, the iPad makes it easy and convenient to share your work with others.
Cons:
Limited 3D Modelling Capabilities
If you're a professional 3D modeler, you'll know that using a laptop or desktop computer is the best way to create high-quality 3D models. However, if you're looking to learn 3D modeling, or you're working on a tight budget, an iPad might be a good alternative. Although iPads are great for browsing the internet and playing games, they don't necessarily provide the best tools for 3D modeling.
Difficult To Transfer 3D Models
The files created by the iPad are not compatible with 3D printer compatible software like Rhinoceros or Solidworks. This means that you can't upload the files to your 3D printer later without many extra steps.   So, if you're thinking of getting your designs 3D printed, you need to export them beforehand. This can get quite complicated and time-consuming so it's best to use a PC for this purpose.
Poor Processing Power
On the iPad Pro in particular, the processing power of the GPU is very limited. That means that complex 3D modeling and rendering can take a very long time to complete. You might find yourself getting frustrated with the slow processing times that you get on an iPad Pro. For this reason, we recommend that you use a computer for complex modeling work rather than an iPad.
Many users believe that an iPad is great for basic 3d work, but many find that it doesn't have the power to handle more complex tasks. This may one day change with advances in technology.
Software Options for 3D Modeling on the iPad
There are several 3d modeling apps available for the iPad that can be used for 3d modeling tasks. Some of the popular apps include: 
Forger
Forger provides a range of tools for creating 3D models. This includes advanced modeling, texturing, lighting and rendering capabilities that give you full control over your project.
You can quickly sculpt out the shape of your model with its intuitive multi-touch interface. Forger also helps you add detail to the model by giving you access to realistic textures and materials. And if you need more help in understanding how things work then there are plenty of tutorials available online too.
Once your model is complete, Forger lets you render it into 3D images or videos which can be exported as gifs, jpgs or movie files thus allowing you to share them easily on social media platforms such as Instagram and YouTube.
Furthermore, thanks to augmented reality integration within Forger's platform, users have the ability to walk around their creations by using an AR headset or mobile device camera lens enabling people from all walks of life to create immersive experiences. Overall, Forger offers powerful but easy-to-use features for creating 3D models for film projects, game development projects or just simply having fun with artistry without requiring a long learning curve .
Whether it's something completely new or making improvements upon existing pieces, this app ensures that everyone has the chance at expressing themselves in unique and innovative ways.
Shapeyard
Shapeyard is the first platform to offer decentralized hosting of 3D models. 
Furthermore, Shapeyard offers an interface for peer-to-peer content exchange and collaboration. Shapeyard also provides modules for easy synchronization with external services like Dropbox or Google drive.
This means working on projects in groups and sending links out for review becomes a breeze.  On top of this, artists have access to powerful tools: from animation tools to automatic retopology and auto UV mapping, exporting at any resolution or extension you wish – even exporting 3D-ready character rigs directly into animation software such as Maya or Blender.
Overall, using Shapeyard simplifies workflow so you can focus on creating beautiful work quickly and easily while saving time and money in the process.
Shapr3D
Shapr3D is a professional-grade 3D modeling software specifically designed for the iPad. It is based on the Parasolid geometric modeling kernel, also used in industrial CAD software such as SolidWorks.
One of the main features of Shapr3D is its easy-to-use user interface, which is designed to be intuitive and work well with the touchscreen and Apple Pencil. The interface is optimized for use with the Apple Pencil, which is used to control the position of shapes and manage details while pivoting around the work plane is done with the user's fingers.
Shapr3D offers a range of features for 3D Modeling, including solid modeling and parametric modeling, as well as tools for collaboration. It is well-suited for professional designers and engineers who need powerful and easy-to-use 3D modeling software on their iPad. It is available for purchase as a subscription-based service on the App Store.
Can you 3d animate on the ipad?
Yes, 3D animation is possible on the ipad. There are a few 3D animation apps available that can help you create 3D animations with realistic 3D characters, backgrounds, lighting and effects. Some of these 3D animation apps include:
Iyan 3D
Iyan 3D is an animation app suitable for many users, including filmmakers, 3D animators, and those interested in creating still images or pose Modeling. It allows users to import characters and props from the app's store, import photos from their personal albums, and create scenes or animating short films.
One of the standout features of Iyan 3D is its ability to render text in 3D font styles, which can add an extra level of depth and interest to animations. The app also offers a range of tools and features for animating and editing 3D scenes, making it an excellent choice for anyone looking to create professional-quality animations on their iPad.
Overall, Iyan 3D is a fun and easy-to-use animation app suitable for many users, from filmmakers to casual animators. It is available for purchase on the App Store.
Anim8
The Anim8 animation software enables users to create 3D character animation quickly and easily. It is a great way for first-time animators to learn the basics of 3D character modeling, rigging, animating and rendering.
With its intuitive interface and simple drag & drop workflow, it makes learning 3D animation fun and easier than ever before. The library of 5 poseable characters provides the perfect starting point for any project.
On top of that, there are also various tools incorporated into Anim8 like camera control panel which can be used to capture dynamic shots or add effects such as filters and lens flares to an existing scene.
Even more features include motion tracking technology so animations can be matched with live footage for a truly unique experience.
Anima Toon
Integrate 3D models into your project with the integrated asset library, or drag and drop in custom assets to add realism. Anima Toon also helps you to create vibrant and memorable experiences with special effects like explosions, fire and smoke.
You can even adjust the speed of specific aspects such as particle systems for natural looking animation. Bring your creations alive by adding dialogues featuring different characters and lip-syncing them to audio files from a library of sound fx samples.
Share your work on social media directly from Anima Toon or export it to other platforms.
Wrapping Up!
In conclusion, the ipad is a great device for 3d modeling if you are looking to do basic 3d models or 3D printing projects. However, if you are looking to create more complex 3d models or 3D animations, it may be best to invest in a laptop or desktop computer that has the processing power and 3D modeling software to handle these tasks. Weigh your 3d modeling needs against the ipad's capabilities before making your purchase decision. 
Click the following link to learn if 3d modeling is harder than drawing.