Both Redshift and Blender are currently rising within the 3D field. With Blender offering unmatched modeling software in an open-source format, they are the perfect platform to make use of Redshift's GPU-accelerated rendering software.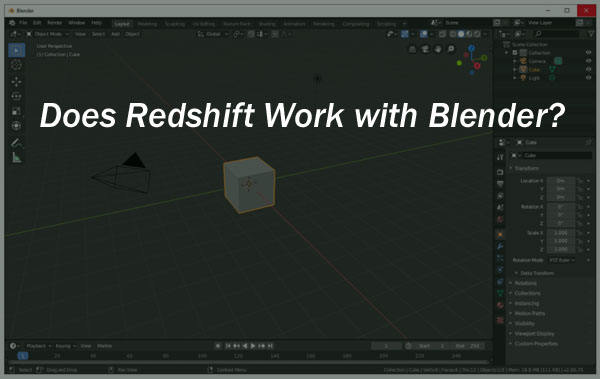 While it has not seen a full commercial release as of November 2020, Redshift support for Blender was in open beta for the public to test. Maxxon's 3.0.33 update was the first to offer the Blender support beta test. Developers were working on an official plugin that was still in the middle of its development. 
While it is not yet feature-complete, this  release shows that the developers at Maxxon were working on it. Despite its early testing phase, moving your creations and trying out the new renderer can offer some incredible speeds. If you're interested in how Redshift will work with Blender, keep reading. 
Why Use Redshift
Redshift is lauded by many in the industry as being incredibly fast while still maintaining high quality. Unlike most GPU renderers, you can use it to tweak individual values animation qualities to get the desired effect. 
Pairing speed with precision, they are a very competitive option when looking for a high-quality renderer. As you can imagine, this is something that can really change the industry. 
Redshift is known for exceeding expectations in several areas when compared to other rendering software. Here are just a few of these areas. 
Offers Greater speeds by using the GPU (Graphics Processing Unit) and performing a biased render, rather than utilizing the CPU(Computer Processing Unit) and slowly rendering the entire selection. 

It works well out of the box and with many third-party apps. Numerous plugins have been designed directly for the program and have support with many of the most popular add ons. 

The real-time render, using the GPU, makes it so you can see changes the instant when objects are modified, rather than rendering it individually each time. 

Robust forums with a dedicated community make finding answers to questions quick and easy, with actual developers and professionals sharing their knowledge and interacting with those who post. 
Unlike the famously free modeling software Blender, there is a fee for admission to Redshift. The least expensive of the plans for Maxxon's creation is 500$ for a single computer. 
Those who are just entering the industry may often turn to less expensive or free options. Redshift is a premium product at a premium price, but it does come with a free 'trial' version. 
Unfortunately, the trial version is not the same as the full release and does not contain the beta for Blender. This stipulation means that you will have to purchase a full license to even try it out with the modeling software.
Full Blender support may come in the future, but as of the time of writing, it is still locked behind both a paywall and a public test. 
Things Unavailable in The Beta Currently
Redshift for Blender already comes with a wide array of tools that have become commonplace for other software programs. 
However, as the product is still in its initial development stages, there are many features that other software benefits from that Blender does not right now. The parts not in this release include:
Redshift RenderView 

FeedbackDisplay (Errors must be viewed in the log)

Proxy support (no import or export)

Point clouds

Light-linking

Denoisers (no OptiX/Altus)

Motion-Blur

Thick strands

Baking
Some missing features can be a massive hindrance or not bother you in the slightest, depending on your need. The lack of Motion Blur and Baking are glaring omissions requiring an incredible amount of work to be fully finished. 
While these problems are not a deal-breaker for most, you may want to look for something that has had its full development completed. 
Products with full support from Redshift
Autodesk Maya

Autodesk 3DS MAX

Cinema 4d

Houdini 

Katana
Is There Hope for A Full Release?
As of yet, the developers have not confirmed whether or not this beta will eventually find its way into a full official feature of the product. Currently, they have the project listed as actively being worked on, and support will come. 
The company has put out several posts on their official forum stating support will come with many customers approving of these developments.
Currently, there are a plethora of bugs and missing features that many users would love to see addressed. These include crashes, incorrect settings, and some slow down in the renderer. If you experience any of these issues, there is a robust help forum on Maxxon. 
With their dedicated staff of developers and community managers, many of these issues will be addressed in future patches. None of these bugs are devastating by any means, with several having easy workarounds. They do not hamper the tool's functionality as a high-quality renderer. 
Blender has been build upon its community, and other businesses that integrate with it have taken notice. As long as interest continues to be expressed by the community, there is a substantial possibility that we will see full support one day. 
That day is far off, as the development of such a tool takes an incredibly long amount of time. Since Blender is not their only project, the team working on its support is smaller than those who have their time dedicated to the more 'professional' software. 
Accessing Redshift in Blender
In order for Redshift to appear as a rendering option, you must first make sure that the plugin for Blender is active within your configuration window. Make sure that you have both Blender and Redshift updated to their most current versions. 
Additionally, when using Redshift, you should always ensure your Nvidia drivers are up to date. (This update process should be done regardless of the 3D modeling program you are using, as using out of date software can lead to lower quality or even lost and corrupted files).
To install the plugin directly, open Blender and go to File-Edit–Preferences. Then select "Addons," click install and locate the Redshift Blender plugin zip file in:
C:\ProgramData\Redshift\Plugins\Blender\2.90.0\redshift4blender.zip (for Windows)

/usr/redshift/redshift4blender/2.90.0/redshift4blender.zip (for Linux)
Currently, there is no Mac support for using Blender with Redshift.
From here, you should see the addon selected whenever you load your plugins. If a full release ever comes, its official support should be added alongside all of the other folders. 
Here is a video on Redshift's features:
Final Thoughts
Blender has quickly come to the forefront of the 3D modeling world and offers tools for nearly anyone to get into the field. It is a remarkable achievement and even has its own built-in rendering software included in the product. 
Redshift, by contrast, is a premium product made with the intention of capturing a professional audience. It has been made to be used by the more standard programs, and due to Blender's explosion of popularity, it has been slow to integrate others.  
While both can be used by creators together, the original philosophy behind them is very different. As they continue to be accepted by the industry as a standard, there are still several hurdles to overcome. Maxxon plans to release its development tools in the future, similar to but more robust than Blender's EEVEE. 
The companies are in a unique position for collaboration. So long as support from the community and those who use the tools continues, full integration and expansion of the software could come in the not too distant future. 
Click the following link to learn why 3d rendering takes so long.