A medical training manikin is an important part of medical training for medical, nursing, and EMT students and professionals. It helps them practice various procedures safely and get confident about the procedure before performing the procedure on an actual patient.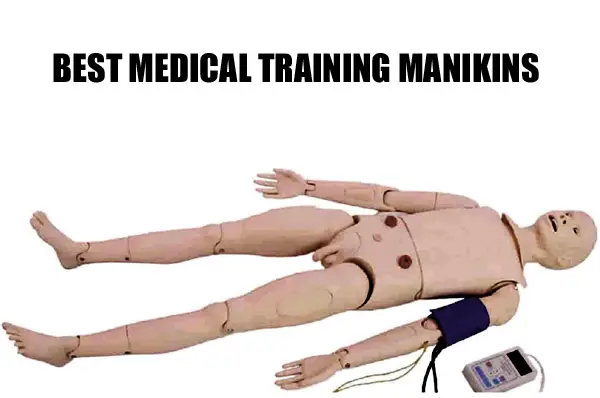 So how do you choose a medical training manikin?
Generally, the best medical training manikin for anyone would depend on its purpose. For most emergency procedures like CPR training and IV cannula insertion, a part-task manikin would be enough. For procedures that need monitoring of certain physiological responses, like intubation, a mid-fidelity manikin would be best. For surgical procedures and advanced anesthesiological procedures, a high-fidelity manikin would be the best choice.
There are a lot of brands in the market that produce a variety of medical manikins that serve different purposes and they may or may not give a response physiologically. A manikin can have high fidelity or it can be a simple model.
We'll explore more about the types of medical manikins in this article. But first, let's see what a medical training manikin is.
What Is A Medical Training Manikin?
A medical training manikin is a model patient simulator that helps medical, nursing, and EMT students and staff learn and practice various medical procedures before they can perform the procedure on a real patient. It helps the learner practice simulated scenarios in a controlled environment.
Various procedures, especially the procedures that are performed in emergencies and the invasive procedures should ideally be practiced on a simulator or a manikin before done on an actual patient. This helps them be more confident in an emergency and be able to perform the procedure precisely even under high-pressure situations. Performing any such medical procedures on a real patient can be intimidating, especially during emergencies when time is of importance. This is where medical training manikins come in handy. Learners can learn and practice various medical procedures and protocols, and get confident in performing the procedure accurately.
Medical training manikins can be made of rubber/polymerized rubber, PVC, plastic, silicone, foam, and fiber. Usually, they are made up of a mix of these materials, with stronger materials like rubber and plastic used to make firmer parts, and skin and face being made of polymerized rubber and silicone to make it soft and real-like. The material used to make the manikin may vary from company to company.
Some of the common procedures for which medical training manikin may be used are:
CPR training

Tracheostomy

IV cannula insertion

Intubation

Ear exam

Suture practice

CVP insertion

Amputation stump bandaging as well as regular bandaging.

Local and regional anesthesia

Surgical procedures

Labor simulation
Types Of Medical Training Manikins
A medical training manikin can be categorized into various types:
A medical training manikin can be a high, mid, or low infidelity manikin. Fidelity is the degree to which a manikin can mimic human physiology.
High Fidelity Manikin:
These are the most advanced variety of medical training manikins. They are wireless, computerized and react physiologically on their own to make the experience much more life-like. They may even have the ability to talk and mimic a patient's symptoms. These are mostly used to learn advanced medical procedures like anesthesiological and surgical procedures, which cannot be replicated in lower-fidelity manikins.
Mid-Fidelity Manikin:
There is medium-level realism in mid-fidelity simulation. It doesn't replicate all physiological responses but replicates some basic physiological phenomena like breathing sounds, bowel sounds, and heart sounds. Procedures like NG tube insertion and tracheostomy suctioning come under this category of simulation, as monitoring of breathing is important in these procedures.
Low-Fidelity Manikin:
This is the least realistic form of simulation where static manikins are used. Role-playing and written cases are used to learn and practice the protocols. Low-fidelity simulation is used to build knowledge. Procedures like CPR training on a CPR manikin comes under this category.
The majority of the medical training for both doctors and nurses is done using low to mid-fidelity manikins. High-fidelity manikins are required only for certain branches of medicine and are not needed for most emergency procedures like CPR training, intubation, and tracheostomy.
For obvious reasons, high-fidelity simulators are the costliest of all. Additionally, high-fidelity manikins don't necessarily give a better learning experience in all situations, as proven by many studies. But, each of these different fidelity manikins or simulations has its respective important role at various levels. Therefore, which manikin to choose should depend on the purpose it will be serving.
Task trainers are manikins that allow learners to learn a specific task and practice psychomotor skills individually. There are no physiological responses from the manikin at all.
Full Body Task Trainer: This is a full body manikin. Usually, they are used in scenarios to simulate ECG monitoring, code blue drills, and other such situations where it's better to have a full-body model.

Part-Task Trainer: The manikin consists of only the part involved in the procedure. They help one learn only one specific task, like airway intubation, central venous access, various anesthesia procedures, intraosseous injections, etc.
These can be found separately or with integration with the high or mid-fidelity manikins.
What To Look For In A Medical Training Manikin?
There are a variety of manikins for medical training available in the market to choose from. Before purchasing a manikin, the budget and the purpose of training should be kept in mind. For example, a low to mid-fidelity manikin would be enough to learn most emergency procedures like a CPR training class, and a high-fidelity manikin in this scenario may not be the best choice.
In addition to the purpose, certain other things that should be kept in mind are:
It should be easy to use, affordable, smooth in finish, and easy to clean

It should be sturdy enough to ensure reusability and ensure it doesn't get disassembled (if with detachable parts) while performing the procedure.

It should be lightweight and portable if you are planning to carry the manikin to various classes.

Anatomical accuracy is important as anatomical/bony landmarks should be seen/palpable to locate the correct reference point wherever applicable.

The manikin should be flexible, i.e. joint movements should be smooth and accurate, as certain procedures mandate good joint movements, like head tilt, chin lift, and jaw thrust while performing intubation.

In the case of a fidelity manikin, the simulated physiological response should be accurate (as per the condition and the symptoms of the patient), and also, it should respond accurately to the treatment/procedure that is being performed in response.

Additional features that might indicate the correctness of the procedure are a plus. For example, an audible clicker on performing CPR to indicate correct depth of compression (in a part-task manikin).

Realistic resistance and recoil of the chest on a CPR manikin is important so that the learner can get accustomed to the actual chest recoil on a patient and understand how much pressure to apply on a real patient.

Simulated fluid flow on a successful lumbar puncture and IV cannula insertion.

The artificial skin should have the same elasticity and strength as real skin, such that it can endure the cuts and sutures well.
Best Medical Training Manikins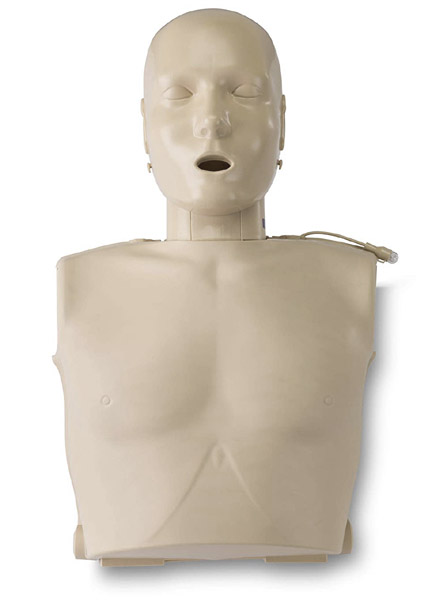 This particular CPR manikin is made for portability. It is lightweight and easy to carry around when compared to traditional CPR manikins. They are easy to assemble and disassemble. This set is great for people who are required to visit different classes to teach CPR. 
This portable CPR training manikin contains 4 adult manikin torsos, 4 adult manikin heads, lung bags, 4 AED units, 4 feedback compression pistons, 4 packs of MCR kneeling pads, a carrying case, and an instruction sheet. You can teach a child CPR on an adult manikin as well. However, if you also need to teach infant CPR then you will need another set of infant CPR manikins. 
Rating: 4.6/5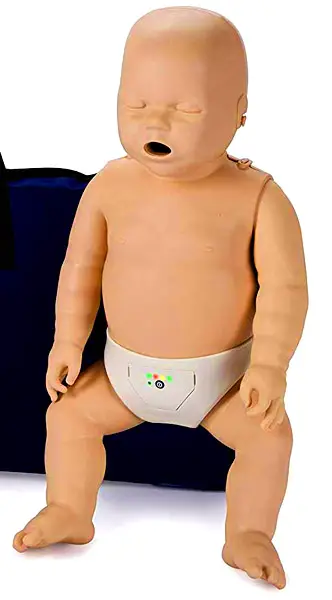 Infant CPR cannot be taught on an adult manikin as the way CPR is performed on an infant is different from on adults. Therefore, for infant CPR a separate infant CPR manikin is mandatory. 
This infant CPR manikin set is a good option for this purpose. It comes with an infant manikin, a lung bag, and a carrying case. It also comes with a CPR rate monitor– which is a great addition, especially for a beginner, as CPR is all about the right amount of quality compression.
The manikin is very real-like and has all the necessary anatomical landmarks that make it easier to locate the carotid artery and the correct spot for compression.
This set is affordable and a good addition to your CPR training set.
Rating: 4.8/5
This set comes with 2 adult manikins and 2 infant manikins that are very realistic in looks and feel. It also includes 2 AED trainers that have 5 pre-recorded scenarios in each of the AED trainers in both English and Spanish. 
It's easy to set up and disassemble. It also has an in-build feedback mechanism that will help the learners be more confident in their technique. 
20 Lung bags and 2 kneeling pads are included in the set too.
Rating: 4.6/5

This set is great for medical and nursing students to practice procedures like venipuncture, IV/IM/subcutaneous injections, IV infusion practice, etc. These are great to practice the angle at which the needle should be inserted in these various procedures.
This model is made up of silicone and is very realistic. It has 3 layers representing skin, fat, and muscle layer– making it a good model to practice various procedures. It has 4 vessels- 2 red and 2 green. This model can also be used to practice the different types of sutures. 
These are very realistic and affordable for the students. This set does not come with red ink or IV needles, however. So you will have to buy them separately.
Rating: 4/5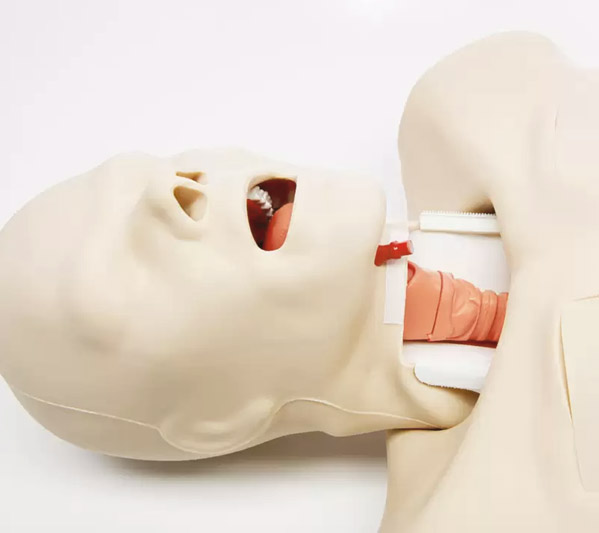 Traditional CPR manikins may not be equipped enough for more advanced procedures performed in traumatic cases. Although expensive, this trauma manikin covers the advanced features that will help the learner be confident in the various invasive and non-invasive procedures performed during such events.
This manikin helps learn advanced airway management and some emergency surgical procedures. A few procedures that can be performed on this manikin are tracheostomy, needle and surgical cricothyroidotomy, NG tube insertion, chest tube insertion, endotracheal intubation, needle decompression of tension pneumothorax, and CPR.
Audible hiss can be heard on successful insertion of the needle correctly at the 2nd and 5th intercostal space- which makes it great for beginners to know they've put the needle in the right place. The joint movement of the neck and jaw is smooth for various throat and neck-based procedures. Another unique feature of this manikin is that the tongue is inflatable to simulate tongue edema. Most emergency neck and chest-based procedures can be practiced on it.
It's very realistic and durable. It has all the correct anatomical landmarks and comes with a 5-year warranty. This manikin is appropriate for a larger institution and trainers who teach the above-mentioned emergency procedures as well, apart from CPR.
Rating: 4.8/5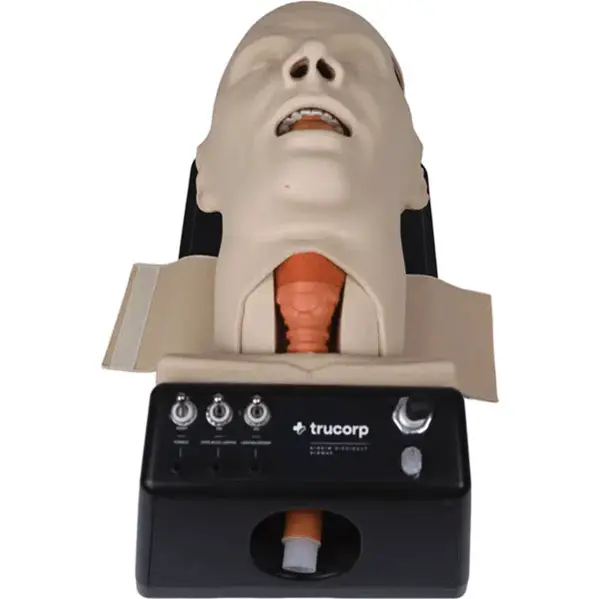 If you only wish to buy a difficult airway task trainer, this trainer comes with a wide range of simulated difficult airway scenarios. 
This task trainer has an enlarged tongue, swollen posterior cartilages, and an elongated epiglottis that help create difficult airway scenarios.
Additionally, it also has advanced features like simulated laryngospasm, displaced larynx, cervical arthropathy, malocclusion, joint restriction, and trismus. Also, tracheostomy and cricothyrotomy can also be practiced on it. 
Rating: 4.8/5
What To Remember When Buying A Medical Training Manikin
Which medical manikin to buy would depend on the purpose it is intended for. The most important factors are:
Ensure it serves the purpose that you are seeking to teach/learn

Ensure that it is anatomically accurate.
Additionally, affordability and durability are other important factors to consider.

I hope this article was helpful to you.
Click here to read about the best 3d anatomy apps (free and paid).